Another Day, Another Ferrari 458 Italia Wreck
August 19, 2010
- 10:00 AM PST
In the computer industry, there's a popular term called Moore's law which basically states that computers will double in power every 2 years. The trend has held steady since 1965.
It now looks like the automotive industry needs to come up with its own law describing the frequency of crashes involving the Ferrari 458 Italia. In the past 90 days, there have been 9 wrecks. One crash every 10 days. Can the trend possibly continue at this rate?
We don't know, but here's the latest wreck. This is the first one to occur in the United States and is the result of engine fire once again. The wreck took place in Costa Mesa, CA yesterday afternoon. When will this madness stop?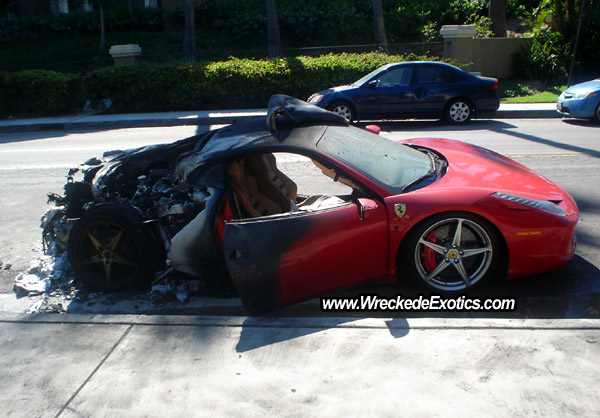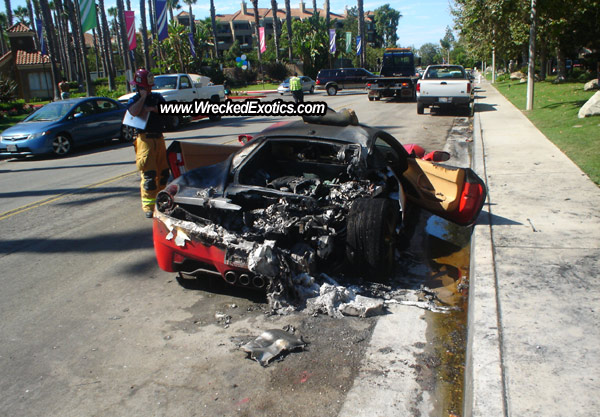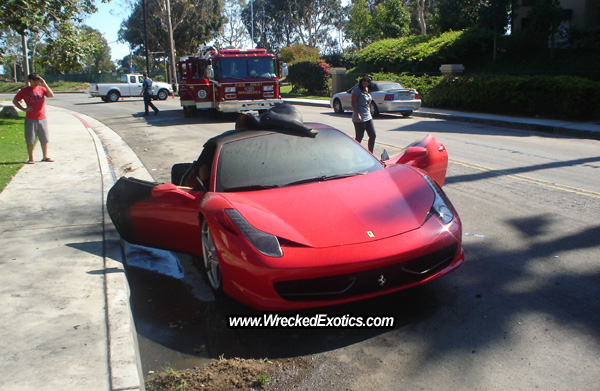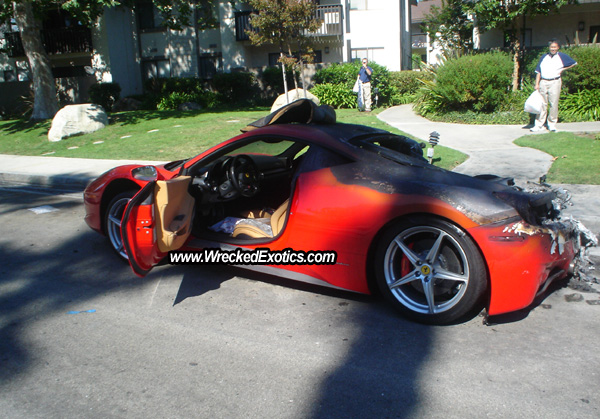 Crash Count & Timeline of Ferrari 458 Italia Crashes
---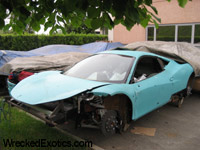 Crash Test
This vehicle was part of an official crash test conducted by Ferrari. It doesn't count as an official wreck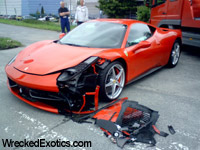 Wreck #1 Date: May 20, 2010
The first crash occurred in Wroclaw, Poland. According to an eyewitness, the Ferrari was driving between 60-70 mph when it approached an intersection where a small bus abruptly made a left turn in front of it. In an effort to avoid crashing into the bus, the driver of the Ferrari veered slightly to his left and crashed into a Volkswagon Bora.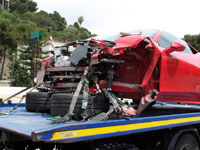 Wreck #2 Date: June 1, 2010
Spotted on the back of a tow truck in Sitges, Spain heading towards Barcelona. It appears the Ferrari sustained a fairly high speed impact - but we're not sure if it happened on a track or on public roads.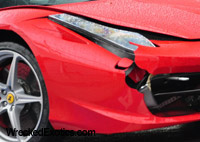 Wreck #3 Date: June 2010
This crash occurred on a wet race track in the Czech Republic. No other details are known about this incident.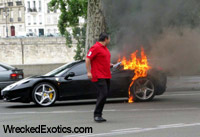 Wreck #4 Date: July 8, 2010
The was the first time the 458 Italia caught fire. In this incident, the driver noticed the rear panel on fire while driving in Paris, France. A passerby used a fire extinguisher to stop the flames before it engulfed the vehicle.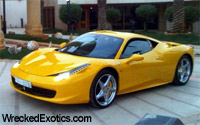 Wreck #5 Date: July 9, 2010
This 458 Italia was being transported from Saudi Arabia to London. While it was stored at London's Heathrow Airport, a fire broke out and completely destroyed the car.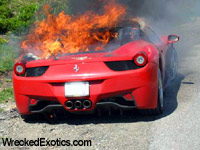 Wreck #6 Date: July 14, 2010
Driving up a mountain pass in Switzerland when the engine caught fire.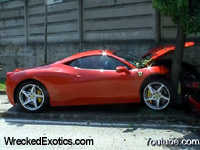 Wreck #7 Date: August 9, 2010
Owner had the car for only one day when he crashed into a tree outside the Ferrari factory in Maranello, Italy.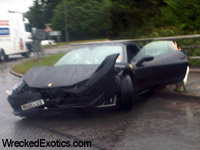 Wreck #8 Date: August 11, 2010
Witness saw the driver playing with Magneto switch trying to show off to female passenger. Entered round about and planted it, the back came around before he had a chance to reacte and he hit the barrier. Occurred in Marlow, United Kingdom.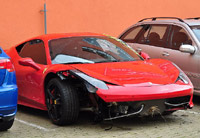 Wreck #9 Date: August 11, 2010
Had less than 200 miles on the odometer. Owner had the car for 6 hours when he ran it into a ditch while trying to overtake another vehicle. Pardubice, Czech Republic.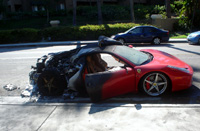 Wreck #10 Date: August 18, 2010
The first wreck in the United States. Caught fire in Costa Mesa, California.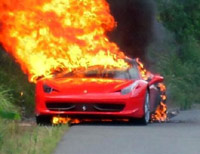 Wreck #11 Date: August 22, 2010
The first wreck in China (city of Ningbo). Caught fire after only about 1,000 miles on the odometer.


| | |
| --- | --- |
| Share this Story on FaceBook: | Share |
Funny Pictures From Around the Web:
Recent Crashes