Dodge Viper Crash Caught on Video
October 22, 2009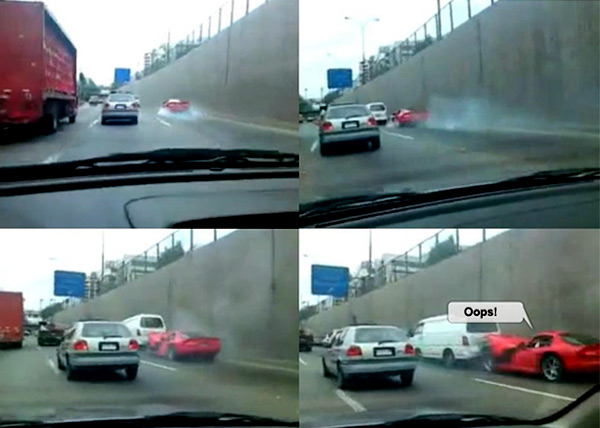 A very embarrassing crash involving a Dodge Viper GTS was caught on video today. Anyone who's ever seen a very rare exotic car pass them by on the highway wishes they had a camera or video to capture the moment. In the country of Chile, a Dodge Viper is considered very rare and exotic and so when one happened to pass by, a guy got his video camera out.
The driver captures the Viper as it passes his car and continues videotaping as the Viper weaves around a couple of cars. The owner of the Viper gets frustrated when he has trouble passing a couple of trucks, and as they enter a tunnel, he floors the car to get around one of the trucks. As he comes out of the tunnel, he doesn't realize traffic has come to a stop in front of him.
It was too late at that point. Watch the video to see the entire incident. The crash happens right at the very end.
| | |
| --- | --- |
| Share this Story on FaceBook: | Share |
Funny Pictures From Around the Web:
Recent Crashes