Ferrari California Crash Caught on Video
November 14, 2009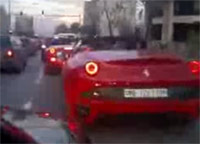 It was only yesterday that a video surfaced of a Bugatti Veyron crashing.
Not long before that, there was a Dodge Viper crash caught on video. Now there's been another exotic crash caught on tape. This time, it's a 2009 Ferrari California.
Two friends were each driving their own Ferrari California through Sofia, Bulgaria. They were speeding around corners when one of them lost control, clipped a car, and crashed into some construction equipment.
Check out the video below to see it all unfold.
| | |
| --- | --- |
| Share this Story on FaceBook: | Share |
Funny Pictures From Around the Web:
Recent Crashes