Video of Aston Martin DB9 Crashing into Tree
November 17, 2009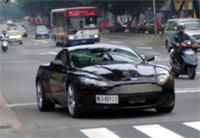 There's been a slew of exotic car crashes caught on video lately.
First we had the Dodge Viper crash followed by the Bugatti Veyron crash. Shortly after that, somebody filmed a Ferrari California crash. Now it's Aston Martin's turn.
The video, captured on dash cam, shows an Aston Martin DB9 losing control on a wet road in Warsaw, Poland and slamming into a tree at a slight angle. The car ricochets off the tree and proceeds to spin a couple of times before coming to rest facing the wrong direction.
The tree ends up splitting in half and falling onto the road.
| | |
| --- | --- |
| Share this Story on FaceBook: | Share |
Funny Pictures From Around the Web:
Recent Crashes