New Video Shows the Bugatti Veyron Crashing
November 14, 2009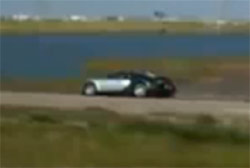 We have an update on the Bugatti Veyron crash from a couple of days ago. Someone actually filmed the accident.
You can't really see a pelican in the video. The car just seems to veer off into the water, creating a huge splash.
The guys filming wrongly identify the car as a "lambo".
Check out the incredible video below:

| | |
| --- | --- |
| Share this Story on FaceBook: | Share |
Funny Pictures From Around the Web:
Recent Crashes