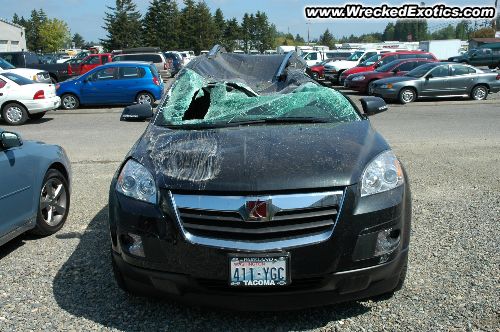 Car:
2008 Saturn Outlook XR
Description:
Driver of a Jeep Cherokee was traveling at a very high rate of speed late one night. He lost control and crashed violently into the front row of cars at Parkland Chevrolet in Parkland, Washington. He crashed through a bus stop, a light pole, and totaled 9 cars, landing on top of the Outlook. The driver was not wearing a seatbelt and was ejected from the vehicle and landed over 150 feet away. The crash was so severe it sent debris flying into cars parked 200 feet away and damaging a sign at least 30 feet in the air. The driver died instantly, but amazingly no one else was injured or involved. Damage was estimated to be nearly $250,000
Location:
Parkland, Washington
Credit:
Zoomshot Inc.
Other Interesting Photos: